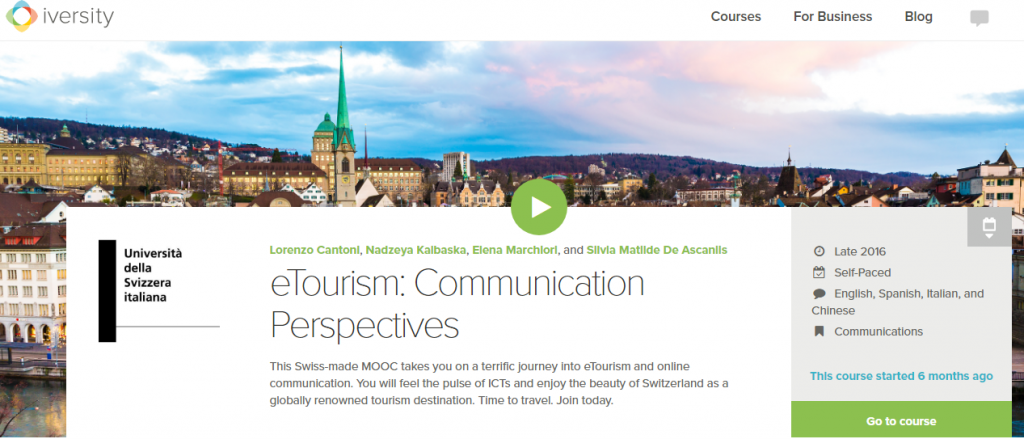 As the first eTourism-related MOOC globally and the first MOOC offered by USI – Università della Svizzera italiana (Lugano, Switzerland), it attracted 5500+ learners last year. The second edition was launched on October 3, 2016 and until Aprl 13, it has gathered 1,832 online learners. A total of 65 learners have finished at least 80% of the course contents and obtained the certificate on a self-paced learning mode.
Topics covered by this MOOC include:
‪ICTs in Sustainable Tourism Development
Online Communication Model (OCM)
Roman Jakobson's Communication Model
Quality of Online Contents
User Generated Content (UGC)
Web 2.0
Reputation in Online Media
Intercultural Communication and Localization
eLearning
Argumentation, and
World Heritage Sites.
To adapt to the global audiences' needs, we added a significant number of scripts and subtitles in different languages in the second edition. Below it shows the highlights of this new edition:
Video subtitles in English, Simplified Chinese, Spanish and Italian
Chinese translation is provided by Eduinfinity Translation Group (教育无边界字幕组)
Italian translation is provided by Fondazione ITS del Turismo e dell' Ospitalità – IATH
Spanish translation is provided by CETT Barcelona
Monthly Google Hangouts with the instructors and assistants
Updated additional materials
To enhance the online communication among participants and instructors, we have organized a series of Google hangouts via YouTube online events. So far we have completed four hangouts, which are accessible inside our MOOC. There will be three more coming in April, May and June this year.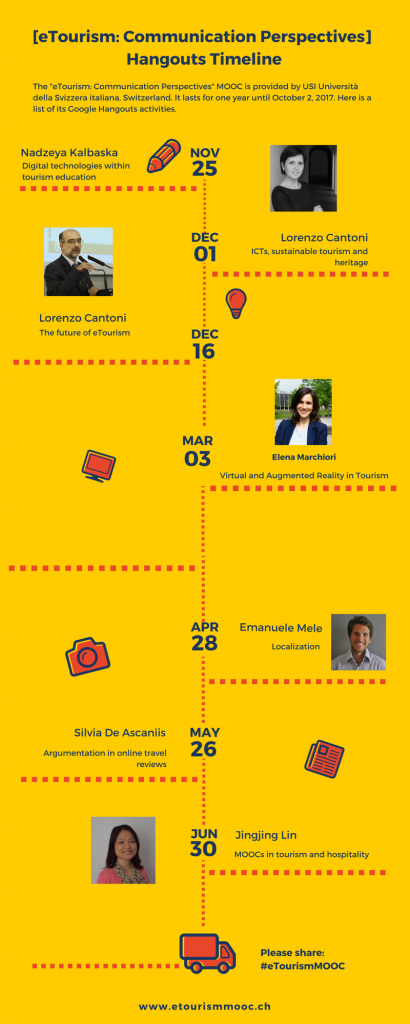 You are welcome to:
---
*MOOCs (Massive Open Online Courses) are online courses intended for thousands of students from around the world, with free access. Although the first MOOC began in Canada in 2008, the phenomenon exploded after an artificial intelligence course at Stanford University in 2011 with over 150,000 participants.
eTourism: Communication Perspectives (second edition), on iversity on October 3, 2016