(Click the image above or here to visit the MOOC course page on iversity)
Available online on October 3, 2016 – equipped with English, Chinese, Itailan, Spanish subtitles and video scripts
---
eTourism: Communication Perspectives MOOC*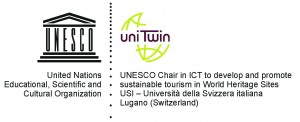 launches its second iteration since its first launcing on October 5 2015 by USI – Università della Svizzera italiana (Lugano, Switzerland), promoted by the UNESCO chair in ICT to develop and promote sustainable tourism in World Heritage Sites, and implemented by eLab.
This eight-week MOOC, covering online communication in tourism with a focus on World Heritage and tourism destinations, will be free and open to anyone, a commitment of about 3 hours/week will be required to complete the MOOC.
Intended audience includes tourism and hospitality professionals, students, and enthusiasts.
Provisional content structure:
Introduction to online communication in tourism
Online Communication Model and evaluation of the quality of online contents
Usability analysis and evaluation of usages of tourism online applications
"Localization" in tourism online applications
B2B activities and eLearning
User Generated Contents (UGC) within tourism
Online reputation of tourism destinations
User Generated Contents and argumentation theory
eTourism: Communication Perspectives MOOC will offer the following training materials:
Comprehensive videos (about 2 per module)
Short readings
Quiz / activity of self-evaluation
Forums and space for sharing/communication among the participants
Exercises and individual / group tasks
Final test
Additional in-depth materials
Ability to get a final certificate of participation (without recognition of academic credits)
Instructors
If you are interested to know more about eTourism: Communication Perspectives MOOC, please feel free to contact us.
Our MOOC is coming online this fall. If you would like to enrol to our course as learner now and get notified once the course is available, please sign up on iversity on our course page.
---
*MOOCs (Massive Open Online Courses) are online courses intended for thousands of students from around the world, with free access. Although the first MOOC began in Canada in 2008, the phenomenon exploded after an artificial intelligence course at Stanford University in 2011 with over 150,000 participants.